Large and giant dog breeds do take a lot of space, whatever they do and wherever they go. This is why they need XXL dog beds that will match their large and giant dog breeds do take a lot of space, whatever they do and wherever they go. This is why they need XXL dog beds that will match their size, but extra large dog beds are not just bigger versions of small beds because giant dogs are heavier and their morphology is very much different to medium-sized dogs, thus, large dog breeds require a lot more than a simple bigger surface to lounge on .
What are the Important Benefits of XXL Dog Beds?
We want dogs to live a healthy life, and just like Chihuahuas have specific needs due to their size, large and giant dog breeds also call for more attention given to some of their specific needs. When buying a large or XXL dog bed, most pet owners will simply go for a regular bed and click the XL size , and here they go, receiving it a couple of days later. What happens next? Their large dog is not lounging on it and clearly doesn't enjoy the new purchase.
The reason is simple: large and giant dog breeds are bigger and heavier . We are talking about breeds such as the Great Dane , Mastiff , Saint Bernard , Rottweiler , Golden Retriever, Labrador, German Shepherd , and similarly sized dogs. Their bone structure needs more support and the older they get, the more padding and cushioning these large dog beds must provide.
With so much weight put on these beds, low-quality products will simply flatten after a few weeks and become pointless, you may not notice that but your dog will. Orthopedic memory foam beds are a blessing to dogs' bones, hips, and joints but for giant-sized dog breeds, the perfect fit rarely exists as they tend to usually be too small. We've seen people buying regular beanbags and using them as extra large dog sofas but what was a great idea quickly turned into a nightmare: large dogs have powerful jaws, they will break these beanbags within days without any doubt!
Types of Giant Dog Beds
There are plenty of giant dog beds that you can purchase at pet shops and even online. All of them have different purposes that can give your dogs comfort and joy when it's time for bed.
Memory foam /Orthopaedic dog beds work by molding your dog's body shape to supply, improve circulation and relieve body pain. This type of foam is recommended to large dog breeds as they offer real support and ultimate comfort. It can also be a blessing to senior dogs and dogs with physical conditions like hip dysplasia, arthritis, and other joint problems.
Raised dog beds are the first choice for older and senior dogs, they really help relieve your dog's joints and articulations. This type of bed can avoid cold cements or tile floors so your dogs can stay at a comfortable temperature.
Thermal dog beds are not a priority unless your dog is having cold nights. Self-warming dog beds work by having a layer of insulating material in the cushion of the bed.
And again, dog beds for large dogs are items you don't want to be cheap about . Cheap giant dog beds will flatten and become pointless after a few days or a couple of weeks. Understand that what you see is very different from what your dog actually feels.
10 Best XXL Dog Beds For Large Dogs
Here we go with our up-to-date selection and reviews of the best extra large dog beds for your large and giant dog breeds. If you know of any top-rated dog bed that you have tested and approved yourself, drop us a quick email and we'll add it here.
1. Big Barker 7-inch Pillow Top Orthopedic Dog Bed
It is fair to consider this bed the Rolls Royce of giant dog beds , both about its excellent quality and its high price tag. First of all, it comes in three sizes and there is no small or medium, instead, you can choose from Extra Large (52″x36″x7″), Large (48″x30″x7″) and Giant (60″x48″x7″). Khaki, Burgundy, and Chocolate are the colors available and its 100% microfiber removable cover is easy to clean, and obviously machine washable.
This handmade premium-quality large bed is coming with an ultra-comfortable headrest to better your large companion's lounging experience. Older dogs will definitely like this addition even more since their neck gets fragile and tired over the years.
Inside this orthopedic extra large dog bed, you will find 7″ of superior quality American-Made foam . Not a Chinese-imported foam, but an ultra-comfortable American foam that will make you want to try it yourself… And you should because we did, and we loved it big time! The support provided by the Big Barker has no contender, it is impressive and completely justifies its high price.
Thanks to the premium-grade materials used during the entire process, this super-sized dog bed for giant breeds is guaranteed to retain its original thickness, padding, and support. If not, you get a new bed for free. You can't really go wrong with this, can you?!
Seller Warranty Description — 10-year guarantee on the foam. We're so confident that this is the best quality foam used in any dog bed, that we'll guarantee that the foam will retain 90% of its loft and comfort for at least 10 years, or we'll replace the bed for free.
2. K9 Ballistics Original TUFF Bed
K9 Ballistics is a brand known for selling hard-wearing products that genuinely resist and last over time ! Durable ripstop fibers are at the heart of this XXL dog bed, they make this comfortable bed tear, dirt, odor, and water-resistant . The channeling of the inner cushion makes this bed's padding and support long-lasting as it is specifically designed to resist clamping and flattening .
The corners have all been reinforced with an extra layer of ballistic material and all the seams are double stitched using, on top of that, an additional piece of high strength webbing sewn into each seam.
For fashionistas, the K9 Ballistics Original TUFF Bed comes in various colors: red, green, tan, blue, and black, but also different sizes: small, medium, large (34″x40″x5″), extra-large (38″x54″x5″) and XX-large (68″x40″x5″).
support and ultimate comfort to your dogs
3. Veehoo Chew Proof Elevated Dog Bed
Every large dog owner knows how even the timidest play bite can hurt or leave scars on furniture. The same goes for most dog beds so if you own a heavy persistent chewer, you will definitely want to go for this elevated Veehoo Chew Proof Elevated Dog Bed.
The first reason why this is a superb product is the chew-proof lightweight upgraded rustless aluminum tube frame that can support up to 150 pounds (68kg) without any problem. It is extremely solid and durable, even with crazy chewers! The reinforcements are clever ways to prevent your dog from breaking the frame.
Another reason for you to become a proud owner of this Veehoo giant dog bed is its 9" off-the-ground elevated design. Indeed, its bed mat is crafted of Textilene mesh fabric and is perfect for a more comfortable, dryer, cleaner, and healthier sleeping place for your dogs. With no stuffing at all, this sturdy raised dog bed allows air to circulate so your giant dog naturally regulates his body temperature .
4. Snoozer Overstuffed Luxury Pet Sofa X-Large
Stuffed with high loft polyester fill for added comfort, the Snoozer Overstuffed Luxury Pet Sofa is a comfortable, yet beautiful and eye-catching extra large dog sofa.
It is an ideal product for any large dog owner who wants a large dog bed that will match his fancy interior design. Some of the more functional dog beds sometimes do not look as good as Snoozer products, and this is the best large dog bed for people looking for a functional but also beautiful extra large dog bed .
Two Dobermans can easily fit in one extra-large Snoozer sofa and the overstuffed feel is extremely appealing to dogs who will enjoy spending hours in it.
However, it is not the easiest and best to clean. It actually is pretty hard to clean since the centerpiece does not unzip. You'll have to wash the whole thing and allow it to dry for hours. Only the middle cushion comes out and can be washed.
5. Sealy Large Dog Bed with Quad Layer Technology
Sealy's Giant Dog Beds have initiated, years ago, a deep revolution of the large dog beds by focusing not just on the look of these, but also on the technology within these ultra-comfortable beds. And they achieved amazing advances with Quad Layer Technology .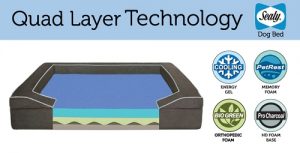 The Sealy Dog Bed, considered by many as the World's #1 Dog Bed , will doubtlessly make a huge difference in your dog's quality of life and comfort. With over 130 years of expert sleep technology experience; the Sealy Dog Bed brings perhaps the most technologically-advanced large dog bed.
The Cooling Energy Gel regulates your dog's body temperature by dissipating heat away from the sleeping surface ( ideal for summer dog beds! )
The Pet Rest Memory Foam adapts to your pet's body, and quickly adjust to movements and pressure which helps to improve blood circulation
The Bio-Green Orthopedic Foam eliminates and removes pressure points by evenly distributing your dog's body weight on the bed's surface
The Pro-Charcoal HD Foam Base adds a further layer of support and absorbs odors so you can space out wash-ups
Sealy also built in some notable and very convenient additions to this already-great large dog bed such as hidden zippers, non-slip bottom, and waterproof liner. All these details definitely justify the price and you will absolutely enjoy seeing your dog-loving it.
6. PetFusion Ultimate Lounge Orthopedic Bolster
This bed is HUGE! Much larger than what the dimensions suggest. You can confidently order a size smaller and still see your dog having extra room to stretch. The bigger size is due to the incredible stuffing found inside the sleeping area. Your dog will surely find that extremely comfortable, but many owners prefer to remove some of the stuffing and flatten it out a little.
High-quality quilted microfibre is used to complement the thick fleece so your dog stays warm while enjoying the soft surface. The cover is removable and a quick machine wash will remove any unwanted odors. The filling used to stuff this XXL dog bed is made of high lofting premium non-allergenic polyester fibers, made here in the United States. Only YKK zippers are used to ensure a long-lasting and durable intensive utilization by your large and heavy dog.
Definitely, a great option if you have a lot of free space at home , but we would not recommend this XXL bed for senior dogs since the support may be insufficient for their joints and bone structure.
7. Fida Premium Dog Bed Orthopaedic Memory Foam
No products found.
This top-rated dog bed for large dogs features a therapeutic gel memory foam base for superior overall comfort that reduces joint pain and can improve mobility, health, and energy .
The Fida premium dog bed also has a cozy cover that is closed by concealed two zippers that can be easily removed so owners can wash and clean it properly. The cover is also machine washable for complete convenience.
Super designs with a recycled 'green' polyfill bolster are filled to provide a remarkable comfort to its head resters. The four-sided higher bolster promotes safety while the inner soft Velboa fabric provides maximum comfort and warmth during your dog's resting period. The outer fabric is made of high-quality Oxford cloth that's very durable and long-lasting. And to make sure that the bed stays in place, this Fida premium dog bed has an anti-slip bottom so it won't be easily drifted by your giant dogs.
It has multiple sizes, (small – 60 x 40 x 20 cm, medium – 73 x 50 x 22.5 cm, large – 89 x 65 x 24.5 cm) perfect for small and large breed dogs . This giant dog bed has a vacuum packed in its box, you can unzip the dog bed easily and let it inflate for up to 12 hours.
The Fida large dog bed comes with a 90-day limited coverage against any material defects and can also qualify for their 60-day worry-free program.
8. MFOX Large Calming Round Plush Dog Bed
No products found.
The MFOX calming large dog bed is made of luxurious faux fur, durable nylon, and is filled with PP fiber that makes it very comfy and breathable. All these materials are 100% safe and made of quality materials that are very soft and self-warming.
This donut cuddler is machine washable and dryer friendly to lessen dog odors and unwanted fur. The downside here is that this large dog bed has no zippers or any removable cover so you need to place the whole bed in the washing machine.
Thanks to its circular design it allows your pet to completely curl up especially if your dog has a sleeping habit of curling. Its rim is raised to support your large dogs and make them feel a sense of security. The MFOX calming dog bed also has padding on the bottom and sides that has a great soothing effect on your dog's joint .
It comes in four colors; beige, brown, black, and gray that can perfectly blend with your home decor. The sizes available are suitable for giant and extra-large breeds — L (60x45cm), XL (80x60cm), XXL (90x70cm), XXXL (110x85cm).
9. KOPEKS Jumbo Deluxe Round Sofa Lounge Dog Bed
The KOPEKS orthopedic giant dog bed is a great way to spoil your large furry friends. It's perfect for XXL dog breeds that have joints and muscle tissues .
This top-rated dog bed for large dogs has double layer protection, its sleeping surface has a waterproof inner cover so you can clean it easily and prevent dog odors from sticking on the main bed.
The exterior cover has a soft and plush Suede with an anti-slip bottom and zippered cover that's made from superior quality materials. Its best feature is the premium memory foam that's hypo-allergenic , this foam is an orthopedic grade that provides support and ultimate comfort to your dogs
10. Pecute Orthopedic Dog Sofa Bed
The Pecute memory foam sofa bed has a stylish design that has three-sided bolsters that sets up a sense of safety and comfort that allows your large dogs to sleep in various positions .It has fluffy pillows that can be used as headrests to reduce spine pressure .
And for a comfortable and cooler effect, the supportive egg crate foam helps air circulatio n and can distribute weight to reduce muscle and joint pains, and improve mobility.
Another feature that owners love is the modern style that features neutral tones of grey and white that will surely compliment your home decor. The materials used in the Pecute large dog sofa bed is made of top quality. Its grey suede fabric is wear-resistant and dirt-resistant while the white faux fur is very soft, comfy, and warm that helping your dog to sleep well.
For easier and faster care, this orthopedic giant dog bed has a removable cover that's machine washable and a double zipper cover in L-shaped so you can remove the cover easily.
You can choose from three different sizes, M:76*46*18 cm, L:89*56*18 cm, XL:101*66*20 cm.
Important Factors to Consider When Buying a Large Dog Bed
Let's summarise what's important to look at when choosing the right XL or XXL dog bed for your large or giant dog. It is not rocket science but there are a few points that need your full attention:
Dog's Sleeping Position
Before buying a high-quality large dog bed, make sure that you know your dog's sleeping position. How does your dog sleep? Are they light sleepers, do they usually curl up in a ball, flat on their slide, or do they comfortably stretch while sleeping.
This will help you know what type of giant dog bed is a perfect fit for your dogs. Their bed shouldn't restrict them from moving and will allow them to feel comfortable .
Dog's Health Condition
It's important to know your dog's health condition especially when it comes to XXL dog breeds. As mentioned earlier, they have different bone structures that need support compared to smaller breeds.
It's necessary to know if your giant dog has sore joints, sore muscles, and hip/back problems . Buying a dog bed that doesn't meet your dog's needs will only worsen their condition, so it's better to know which type of bed is perfect for them.
Type of Materials
Of course, every pet owner wants to give their dogs a clean and comfortable bed to sleep in. Examining the materials, especially the cover is an important factor before buying an XXL dog bed. A removable and washable large dog bed can help you keep your large dog beds clean and prevent foul odors.
Also, natural fabrics and fur can affect your dog's sleeping, you can also choose waterproof dog beds to clean them easily. Make sure to choose high-quality materials that will last longer and will give your dog comfortability.
XXL Dog Bed Sizes
When it comes to sizes, make sure that your dog has enough space to stretch and change position without difficulty. But keep in mind that large dog beds can be too big for your dogs.
Yes, we want them to have a large extra space but they should also feel safe and snug into their beds so they can easily settle.
Durability
Since XXL dog breeds are stronger compared to other breeds, make sure that their bed is durable. As we all know, dog beds can be expensive so it's better to purchase something that's long-lasting and can be chew and scratch-proof.
Large Dog Beds: FAQ
We gathered the top frequently asked questions about the best extra large dog beds for large dogs & giant breeds, below are the best answers to your inquiries.
What is the biggest dog bed you can get?
You can purchase XXL dog beds for your giant dogs. Usually, there are large dog beds that are available online that have a maximum weight capacity of 91-100 lbs and have a 48" length and 30" width.

What type of XXL dog beds do dogs like best?
The most popular XXL dog beds are orthopedic memory foam beds . Since large breeds are prone to joint and muscle pain, this type of bed can prevent or lessen an uneasy sleeping position for them.
How do you introduce a dog to a new bed?
The best way to introduce your new giant dog bed to your dogs is to make their bed feel home and comfortable. You can place their bed to a familiar location and place toys and treats as an introductory warm-up. Also, praise them when they did a good job on sleeping in their beds.

Where is the best place to put a dog bed?

You can place your dog beds close to your bedroom or anywhere in your home where they feel safe. Most dogs have a special spot in your house where they feel secure. So yes, the best place for dog beds may vary depending on your dogs.
Hopefully, you have now found your pooch's new favorite large dog bed and if these reviews helped you, please share :)
You will love our other article on the most luxurious dog sofa beds and the 10 best designer dog bowls ! We have loads of dog supplies reviews , so enjoy reading through them!
Featured image credits to Ambient Lounge Pet .